When do you drink rum?

On what occasions?

Maman Brigitte is a dark rum for people who are looking for price-quality deliciousness without reaching to the sugar bowl.
The best time to drink rum is entirely up to you. Bert does not like rules when it comes to spirits. It all depends from person to person and desire. So in short, drink rum when you have the mind-set for it.
With which dishes?
Bert doesn't like to pair spirits with food, why? Because those spirits tend to dominate the food too much.but if he has to choose something to pair rum with: definitely with desserts.
In which places?
Rum is best drunk in the distilleries in the Caribbean, or in the Hotel bars in the Caribbean. It does not get any better than that. Another great place to drink rum is Cuba. Did you know cuban rum was discovered in the 16th century by the Spanish colonists?
When that is not possible, people drink it mainly when they are among friends, in cozy places and so on... but in a brown pub you will not immediately find good rum.
When is rum consumed?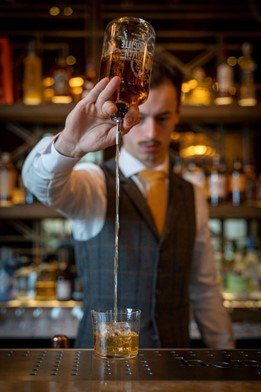 Cocktails with rum
Maman Brigitte is a dark rum that is ideal as a sipping rum, as well as sprit for rum cocktails. Below is a list of some rum based cocktails, which are delicious with the Maman Brigitte rum from the Asta Morris brand.
1. Cuba Libre or rather Maman Brigitte Cola
what do you need for a rum cola?:
45 ml Maman Brigitte rum

Cola

Lemon
How to make a rum cola?
Squeeze half a lemon into the glass

Fill the glass with crushed ice

Add 45 ml Maman Brigitte rum

Fill the rest of your glass with cola

Stir and finish with a subtle wedge of lime
2. Rum Old Fashioned
What do you need for a rum old fashioned?
How to make a rum old fashioned?
Add Angostura Bitters (2-3 drops) to a rocks glass with a single ice cube

Add 3 to 4 more ice cubes and 50 ml Maman Brigitte rum

Stir for about 60 seconds

Ready. You can finish it off with an orange peel if you like!
3. Mojito
Although many people make mojitos with white rum, the brown Maman brigitte rum in a mojito is highly recommended! It gives an extra dimension to the mojito. Knowing that Maman Brigitte does not contain much sugar, this is definitely a winner!
What do you need for a rum Mojito?
Cane sugar

Limes

Mint leaves

Maman Brigitte rum

Crushed ice

Sparkling water
How to make a rum Mojito?
Empty 2 tablespoons of cane sugar into your glass

Squeeze 6 pieces of lime into your glass

Put 5 to 6 mint leaves in your glass

Mash everything up, making sure to release a lot of juice

Sprinkle a small spoonful of cane sugar over the juices

Fill the glass with crushed ice

Pour 45ml Maman Brigitte into your glass

Top it off with a splash of sparkling water

Ready, but add maybe just a straw!
4. The Zombie
Let's end with Bert's personal favorite: the Zombie!
What do you need to make the Zombie rum cocktail?
30 ml Maman Brigitte rum

30 ml white rum

5 ml Maraschino liqueur

5 ml absinth

30 ml of passion fruit juice

30 ml pineapple juice

10 ml lemon juice

a piece of passion fruit to decorate

a shaker

ice cubes


How to make a rum Zombie cocktail?
Take the shaker and make sure there are some ice cubes in it

Add all the ingredients listed above expect the absynth

Shake it!

Pour it into the cocktail glass

Add the absinth

Decorate it with a piece of passion fruit
Rum with desserts
Bert his personal favorite is the one and only: dame blanche. But Maman Brigitte dark rum with a chocolate dessert (with maybe some dried fruit) is also a winner!
Rum as aperitif
An aperitif is an alcoholic drink taken before dinner to whet the appetite. The custom of drinking an aperitif before eating was adopted from France. Rum as an aperitif goes too, think of a cuba libre or just neat.
Rum as a digestive or rum as a sleeping cap
A digestif is a drink drunk after a meal that advances the digestion. It is thus the opposite of an aperitif, a drink one consumes before eating. It is drunk separately or with a coffee.